Reach Your Target Audience With The Right Kind of SEO
SEO gives your business a wider-reach, helping you reach people who might otherwise not hear about you. Ultimately SEO results in increased sales and higher profits. Appcentric is a top-grade SEO service company that can help improve your website ranking. Our services have enabled businesses to generate increased volume of business. We have worked with some of the most prestigious brands around the world and stay focused on delivering the ideal results from the organic search. We keep ourselves attuned to the latest updates in Google Algorithms that dictate how website rankings are determined.
Monetize Traffic From Organic Search
Think you can manage SEO using the analytics yourself? It's not that simple. Our expert team goes deep down beyond the analytics to determine the right set of keywords for your website and then applies their genius to exponentially increase your website ranking and conversion rates.
Optimizing Content
Content is the essence of your website and that's why we put huge emphasis on it to ensure its quality, accuracy and authenticity are in order. We do that by posting revenant blogs, images, infographics, and press releases that ultimately has a positive impact on your organic search results.
Dealing With Crawlers
A big business calls for big websites. But then the bigger your website, the more likely is it to encounter bugs and errors. To avert that a constant watch has to be kept on all the robot files, canonicals, redirects and sitemaps associated with your website. We take care of all that for you.
SEO Consultancy
Our team helps you identify your SEO objectives and formulate a workable strategy for their achievement. Whether you have your own in-house marketing team or need a specialist firm, we are flexible enough to work either way and recommend the best course of action.
Keep an eye on competitors
The SEO mission doesn't end once your website has got the top rank. The competition on Search Engines is relentless and it doesn't take long for your rivals to topple you from the cherished spot. That's why we never let our guard down and keep a constant eye on your competitor's moves, by constantly analyzing their backlinks and content marketing strategies.
Track Metrics
Finally, to ensure that everything is headed in the right direction, we keep a track of your website's analytics, visitors' stats, webmaster tools, page engaging levels, bounce and conversion rates, number of backlinks, page indexation and lot more.
Our SEO services ensure:
Increased Organic Traffic Decreased Bounce Rate Increased Average Visit Duration Increased Pages Per Session
Industry Recognition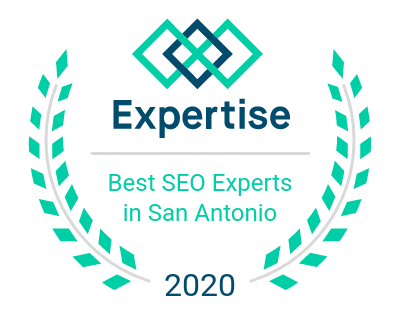 Appcentric is proud to be recognized as best SEO Agency in San Antonio! We work hard for our clients and will work hard for you.
Check your site's score now: